Chief election official
The Village and Town of Somers Clerk/Treasurer serves as the chief election official. The chief election official supervises all elections in the Village and Town of Somers. Additional duties include preparing ballots, publishing election notices and other public information, providing information on polling places, preparing and distributing absentee ballots, and maintaining current voter registration files and lists.
Any questions that cannot be answered by the information on this page should be directed to:
Clerk/Treasurer
Brandi Baker
[email protected]
262-859-2822
Upcoming elections
Spring election
The Spring General Election will be held on April 4, 2023. The official notice for the Village of Somers is available here, for the Town here.
Village Trustee Gregg Sinnen will not be running again. He filed non-candidacy papers.
Sample ballots for this election are available here.
The official candidates will be:
Village President
George Stoner
Carson Wilkinson
Village Trustee (three vacant positions)
Scott Fredrick
Jackie Klapproth Nelson
Jack Aupperle
Dustin Thorpe
Town Chairman
Town Supervisor
Municipal Judge
Location and polling place hours are available here.
Polling places
1.  Somers Village/Town Hall, 7511 12th Street (Highway E)
2.  University of Wisconsin-Parkside Sports Center, 4130 Petrifying Springs Road (Highway JR)
All polling places are accessible to elderly and disabled voters.
Free transportation to the poll may be available from these vendors.
Poll time
Polls open at 7 a.m. and close at 8 p.m.
Wards
If you do not know which voting ward you live in, please contact the Village/Town of Somers Clerk.
Wisconsin now requires a photo ID to vote
Do you have the right photo ID?
How do you get a free state ID card?
Are there exceptions to the new law?
Click here for details.
Acceptable photo ID's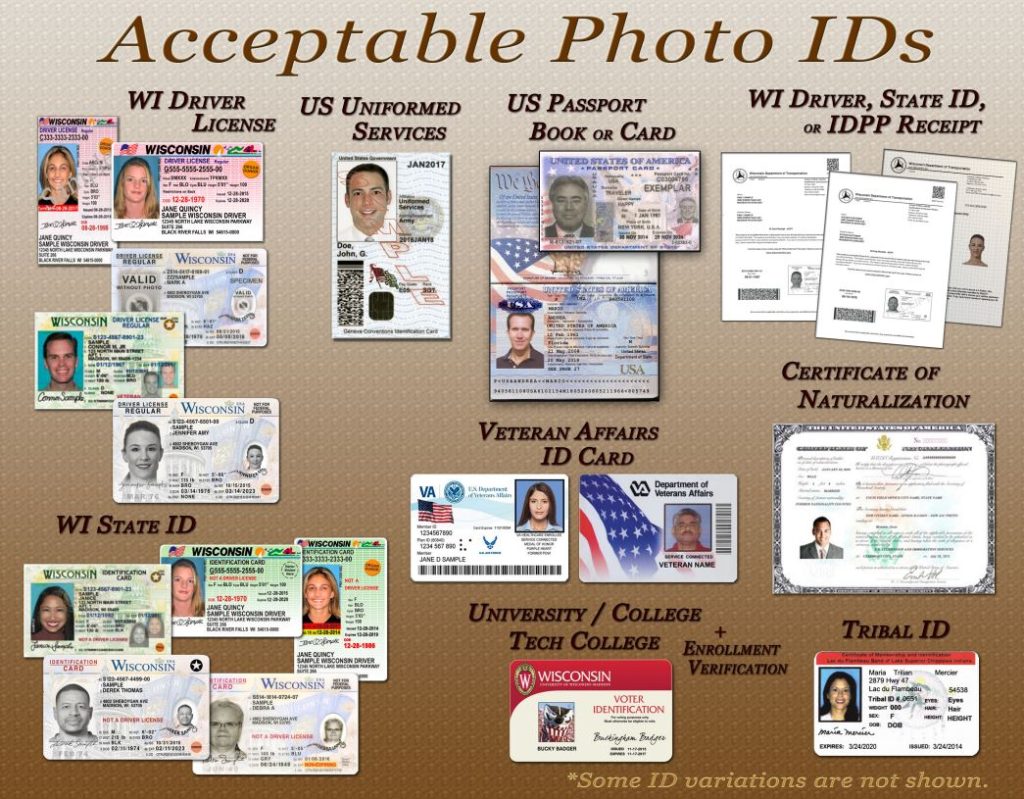 Click here to view a list of acceptable forms of ID provided by Wisconsin Elections Commission.
Register to vote
You can check if you are registered to vote or register online at the myvote.wi.gov. You can also track your absentee ballot on the site.
Alternatively, fill out the form below and return it to the Somers Clerk.
Wisconsin Voter Registration Application
Direction for absentee voting
Directions to vote absentee can be found here.
Please note:  In 2011 Act 227 was passed and prohibits a voter who has voted and returned an Absentee Ballot from voting at the polling place on election day.
You can also apply for an absentee ballot online at myvotewi.gov.
Absentee ballots must be delivered to the Village/Town of Somers Clerk-Treasurer no later than 8 p.m. on election day.
Request by mail
Download the Wisconsin Application for Absentee Ballot. Complete the form, include a coy of your photo ID and mail it to the Village and Town of Somers, Attention Clerk-Treasurer, 7511 12th Street, P.O. Box 197, Somers, WI 53171.  The application must be received by the Clerk-Treasurer no later than 5:00 p.m. on the Thursday  before the election in order for an absentee ballot to be mailed to you.
Request by email or fax
A voter may request that a ballot be mailed to them by sending an e-mail or fax to the Village and Town of Somers, Attention Clerk/Treasurer or fax at 262-859-2331.  You must include a copy of your photo ID. Before the ballot can be counted on election day, the Clerk must have received a request from the voter with an original signature. (Print your emailed request, sign it, and return it with your ballot, on the outside of the certified ballot envelope.) This request must be made no later than 5:00 p.m. on the Thursday before the election in order for an Absentee Ballot to be mailed to you.
In-person at the Somers Village and Town Hall
In-person absentee voting runs for several weeks before an election, ending at 5 p.m. on the Friday before the election.  The Village/Town of Somers regular office hours are 8 a.m. to 4:30 p.m. Monday through Friday. Photo ID is required.
If you apply for an Absentee Ballot at the Village/Town Hall Clerk's Office, you must vote immediately, seal your ballot in the proper envelope, and return it to a member of the Clerk's staff.  No ballots may be taken from the Clerk's office.
Military and overseas voting
Please note that there are exceptions for military and overseas voters.  Please refer to the Military and Overseas Voting page for rules.
Uniform instructions for absentee voters: Click here.