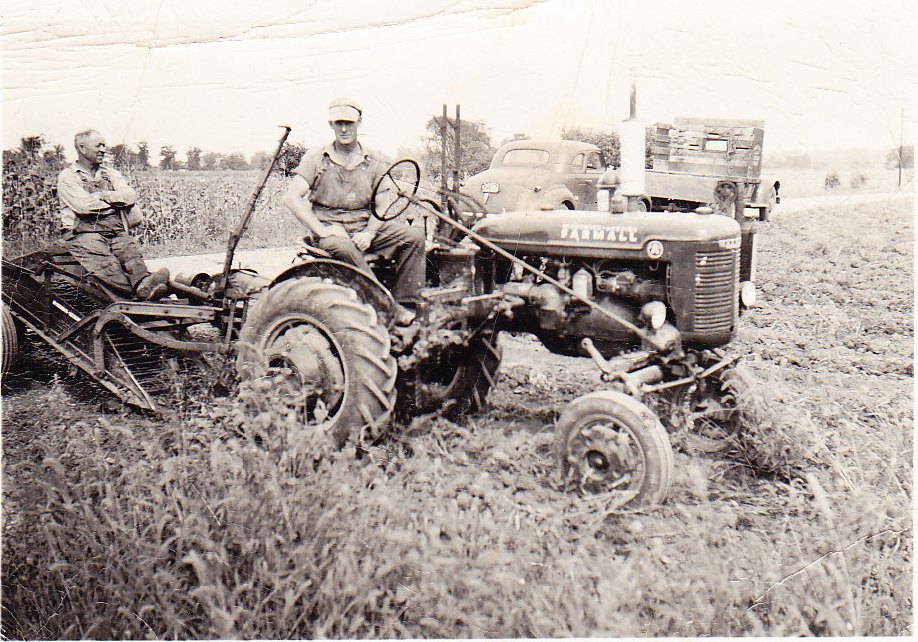 Somers pioneer Sam Smith digs potatoes on his 22nd Avenue farm in Somers
(Photo courtesy of Jim Smith)
Preserving the Village and Town of Somers pioneer and local history is an important step in making sure future generations can learn about their community. Jackie Klapproth Nelson, Somers Historian, and Jim Smith, former Somers Town Chairman, recently met with Melissa Olson, Head of Archives/Archives & Area Research Center, to donate items that were passed on to them by their Somers pioneer ancestors. "It was important to give my family photos and letters a good, permanent, safe home. Parkside is located is Somers and the archives area was a natural fit. Melissa Olson welcomed the opportunity to help us preserve this local history", said Nelson.
Jim Smith added, "My family came to Somers in the 1800's and some of the items are over 100 years old. It would be a shame not to preserve and safe keep them. I hope other old timers in Somers will consider doing the same."
Smith donated many photographs dating back to the 1800's featuring local Somers schools, farming, family ancestor photos, Somers grade school books dating back to the early 1900's, and other historical books. Jackie Nelson and her family donated historical photos of downtown Racine, scrapbooks of obituaries that outline the genealogy of many Somers pioneer families, and letters written to home by her Uncle Daniel Klapproth with photo albums while he served in the US Army in the Panama Canal during World War II.
As Somers Historian, Nelson also donated official documents and photos from the 1980's of the Somers Civic Association who spearheaded the Somers Parade, Ice Cream Social, Miss Somers contest, Fireman's Ball, and Pet Parade. Jackie Nelson also met with former members and veterans of the Somers VFW Post #2751 which was disbanded in 2015. Photos, documents, minute books, awards, and other historical items of the VFW will also be donated to the UW-Parkside Archives.
Anyone having questions regarding donating Somers pioneer and historical items are encouraged to email Jackie Klapproth Nelson at [email protected] or Melissa Olson at [email protected].

Jackie Klapproth Nelson, Village/Town of Somers Historian and Village/Town of Somers Website Manager; Melissa Olson, Head of Archives & Area Research Center UW-Parkside; Jim Smith, former Town of Somers Chairman and current member of Village of Somers Plan Commission