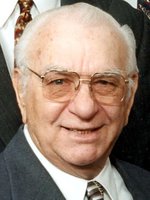 Leon T. Dreger

The Village and Town of Somers made a lasting tribute to honor Leon T. Dreger by naming its auditorium the Leon T. Dreger Hall.
As the last item of business was announced at the April 23, 2015 Somers Annual Meeting, former Town Chairman, James Smith, stood to make an appeal to the citizens and Town Board. Smith said, "Somers has this beautiful new auditorium that is used for public town meetings and events as well as town sponsored social events. It should have a name other than "auditorium" and I cannot think of a more fitting way to pay tribute to Leon T. Dreger, honoring his long-time dedicated service to the Town of Somers, than to name this auditorium after him. Prior to Mr. Dreger's death in 2009, he served on the Somers Plan Commission since 1968 and was Chairman for twenty years in addition to his board positions at Kenosha County, and many other not-for-profit boards. Mr. Dreger was admired by many for giving his time and talent to helping people in his community."
The motion was made by James Smith, seconded by Edna Highland, and a unanimous vote in favor was made by the citizens. A plaque will be created with donations from the community with a dedication event to be announced.

About Leon T. Dreger
Born in Kenosha on February 15, 1925, he was the son of the late Theodore and Martha (Rakow) Dreger. A lifelong resident of Kenosha, he attended Vocational School, where he studied Vocational Agriculture for 4 years. He entered the United States Army on October 4, 1943, landing on D-Day, June 6, 1944, in the assault waves in Normandy on Omaha Beach. Of the 75 man demolition team in his landing craft, he was one of only 5 soldiers to make it to the beach alive. He served in the 30th Infantry Division, also known as the Work Horse of the Western Front and was wounded on October 8, 1944, at Alsdorf, Germany. He returned to proudly fight in the Battle of the Bulge directly out of the hospital, still wearing his bandages. Leon was honorably discharged on November 8, 1945. He received the Purple Heart, five Bronze Battle Stars, a silver star and many other medals.

On August 13, 1955, at Atonement Church in Racine, he married Beverly E. Buechner. Leon started farming in 1947 in Kenosha and Racine County. He also worked at American Motors, Massey Harris and Nash Motors. Later he was Adjustor and President of Kenosha County Mutual Insurance Company. In 1985 he retired from farming and 1992 from the Insurance Company.
He had served on Somers Planning Commission since 1968 and was Chairman of the Commission for 20 years, was a member of the Southeastern Regional Planning Commission, Kenosha County Farm Bureau and served on the Board of Directors as Chairman, Board of Directors of the Farm Services, a branch of the Farm Bureau, Life member of the 30th Infantry Division Assoc., also was President of both National and Midwest Chapter of 30th Division Association, V.F.W. Post #1865, Disabled American Veterans and the Purple Heart, PLAV, Military Order of the Cooties, Pup Tent Six, Danish Brotherhood Lodge #14, Westosha Kiwanis, Wisconsin Soybean Board, President of Wisconsin Soybean Marketing Board, National Soybean Marketing Board, he also served on the National Soybean Executive Board, Board of Directors of the Brown Bank, and Independence Group and First Wisconsin Bank. He served on the committee that rewrote the County Zoning Ordinance, Kenosha County Board of Review, part of the time as chairman.

Leon T. Dreger, 84, passed away Tuesday, September 1, 2009, at Aurora Medical Center in Kenosha. He was survived by Beverly, his wife of 54 years; a son, Dwight Elliot Dreger of Schaumburg, IL; a daughter, Sandra Lee (Phil) Hall of Dallas, TX; two brothers, Elliot Dreger of Arroyo Grande, CA, and Garriet Dreger of Pleasant Prairie; and two sisters, Dorothy Reck of Kenosha and Lila Mutchler of Pleasant Prairie.
He was preceded in death by a sister, Helen Mutchler.
(Thank you to Proko Funeral Home for granting permission to copy Mr. Dreger's biography and photograph)