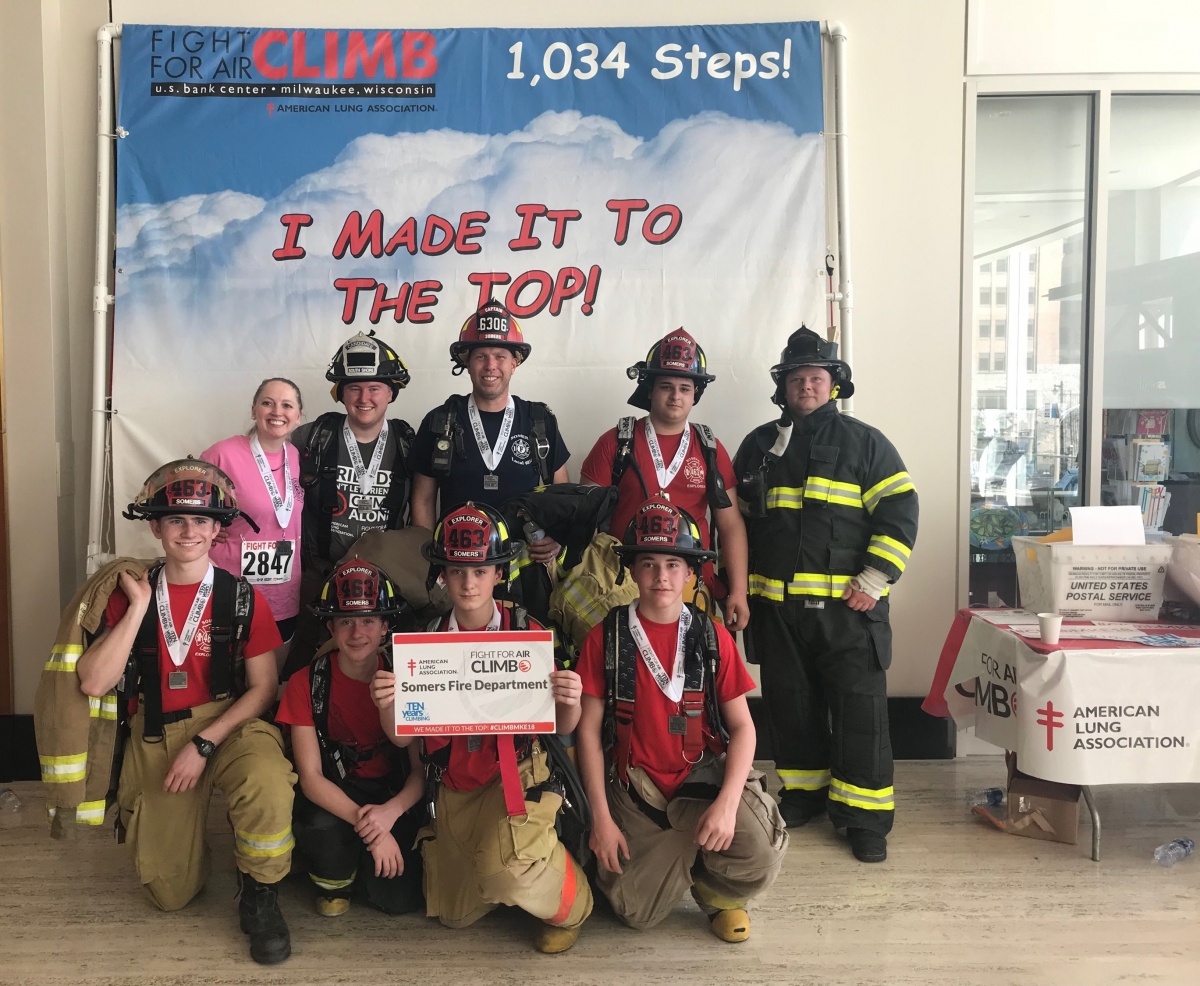 American Lung Association's Fight for Air Climb
March 10, 2018 held at US Bank Center, Milwaukee
Front Row left to right: Explorer Josh Hoening, Explorer Nick Capelli, Explorer Richie Dibble, Explorer Keegan Koprovic
Back row left to right: Abby Krekling (sister-in-law of Jason Sinnen), former Somers firefighter Jason Sinnen (currently Southshore firefighter), Somers Captain Joe Scruggs, Explorer Nick Covelli, and former Somers firefighter Mike Schmidt (currently Highland Park firefighter).
(Photo courtesy of Fran Dibble)

Members of our Somers Explorer Post #463 stepped up to the challenge of raising money for the American Lung Association's Fight for Air Climb annual fundraiser. The event was held on March 10, 2018 at the US Bank Center in Milwaukee. Eight Explorers climbed up 47 floors (1,034 steps) to earn money from pledges they collected.
Our Somers Fire & Rescue Department receives many calls for assistance due to breathing difficulty. Not being able to breathe efficiently is stressful for these people. The American Lung Association funding supports research, lung health and environmental programs to combat the many causes of difficult breathing.
The Somers Fire and Rescue Department, in conjunction with the Boy Scouts of America, sponsors the Somers Explorer Program Post #463, founded October 10, 2012. The program is a chance for youth aged 14 to 21 years old to explore what it would be like to have a career in fire and emergency services. One of the goals of the program is to provide young adults with a sense of neighborhood responsibility through training, drills, and community related activities.

Climb Results:
1. (12:26) Josh Hoening
2. (13:53) Richie Dibble
3. (14:37) Joe Scruggs
4. (14:52) Mike Schmidt
5. (15:01) Keegan Koprovic
6. (20:42) Jason Sinnen
7. (21:02) Nick Capelli
8. (23:12) Nick Covelli