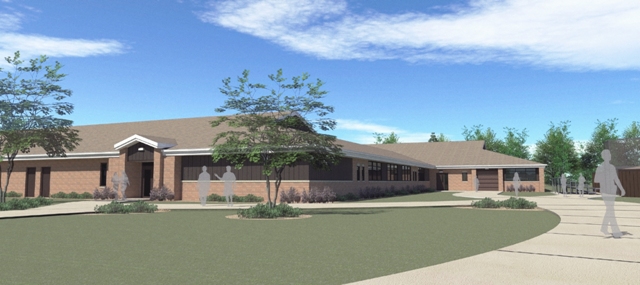 Shoreland Lutheran High School, Somers, Wisconsin
(Photo Source: Growth Design Group, Inc.)
On Sunday, September 21, 2014, Shoreland Lutheran High School, located on Highway E in Somers, held a picnic, dedication service, and ribbon-cutting ceremony celebrating the completion of their new $4.2 million addition. "We are thankful for the partnership we have with the Town of Somers. Shoreland is committed to serving the community with a premier high school experience," said Principal Paul Scriver.

Designed by Growth Design Group, Inc. of Cedarburg, Wisconsin, the 13,800 square foot addition features up-to-date science labs, classrooms, and lab space for the school's STEM (science, technology, engineering, mathematics) Academy. The STEM Academy is a four-year program that was designed with Project Lead the Way and the Milwaukee School of Engineering allowing students to earn college credits through MSOE. The addition also includes new toilet facilities that are available to the public while attending the school's outdoor sports programs. According to Growth Design Group, the project also made significant improvements to the overall energy efficiency of the facility which includes new lighting and roof.

Shoreland Lutheran draws students from local communities as well as South Milwaukee, Gurnee, Illinois and as far west as Elkhorn, Wisconsin. The school has 311 students. Of the 311, nineteen students are foreign exchange students from China and South Korea and 83 attend with tuition paid with public tax dollars through the Racine School Choice voucher program.

According to Principal Paul Scriver, this $4.2 million addition is phase one of a potential $15 million project that will add a performing arts center, chapel, additional classrooms and an expanded sports facility.
Article by Jacqueline Klapproth Nelson