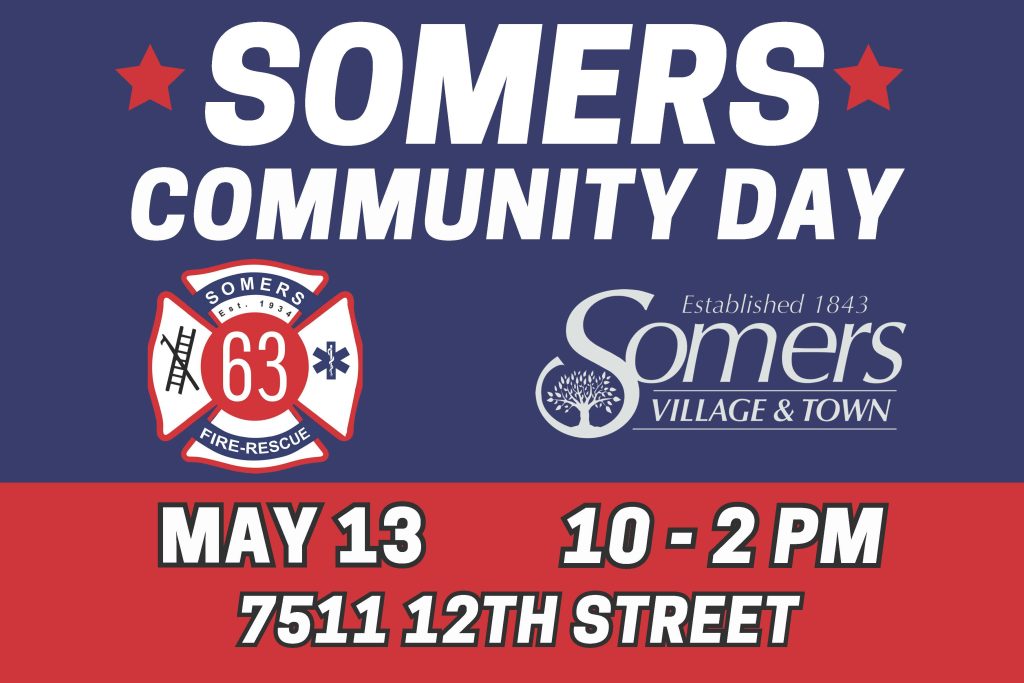 The Somers Fire and Rescue Department is inviting residents to attend the first Somers Community Day Saturday May 13 from 10 a.m. to 2 p.m.
The Somers Village/Town Hall will be open to the public for tours. Firefighters will be on hand to explain how smoke detectors and other fire prevention devices work. There will be a smoke house on site for participants to experience how to best escape a smoke-filled room. There will be information booths at the event.
Events are scheduled as follows:
10 a.m. Kenosha Sheriff's Department K-9 demonstration
11 a.m. fire extinguisher demonstration
11:30 a.m. Flight For Life helicopter lands
12:30 life-saving measures demonstrations
1 p.m. car extrication demonstration
There will be a 50/50 raffle to support the Somers Fire & Rescue Association "Make the Difference" community outreach initiative that promotes teaching CPR and other life saving measures to community members.
"We see an amazing opportunity to create more of a partnership with our community," said Somers Firemedic Nico Celebre. "The "Make the Difference" initiative will raise our overall community health and wellness immensely."
For more information about the initiative, fill out this form on the Somers website.
The fire department would like to thank the following sponsors for their help: Walmart, Festival Foods, Dunkin', Froedtert Pleasant Prairie Hospital, Aurora Medical Center, VRC Animal Hospital and Golden Oil — Amoco among others.
Festival Foods is donating a Milwaukee Brewers PlayBall home game experience for the June 18 game against the Pittsburg Pirates at 1:10 p.m. The winning child (age 6 to 14) will be able to go on the field before the game, receive four field level game tickets, a free t-shirt and open the afternoon's game by shouting "Play Ball!" from the scoreboard.