Welcome Festival Foods!
The store in Somers, located on Highway 31 (Green Bay Road) just north of Wal-Mart and Sam's Club, will be Festival Foods' 23rd location in Wisconsin. We invite all Somers residents to stop in and take a look at this unique store.
"Because of our commitment to the Kenosha market, the warm welcome we've received, and relationships we've built, we look forward to bringing a new store to Somers. Somers represents a key opportunity to expand our business and to better serve the growing number of guests in the surrounding Kenosha area. We are honored to become a member of this wonderful Wisconsin community and are excited about the economic impact that this new store will bring," said Mark Skogen, President and CEO of Festival Foods.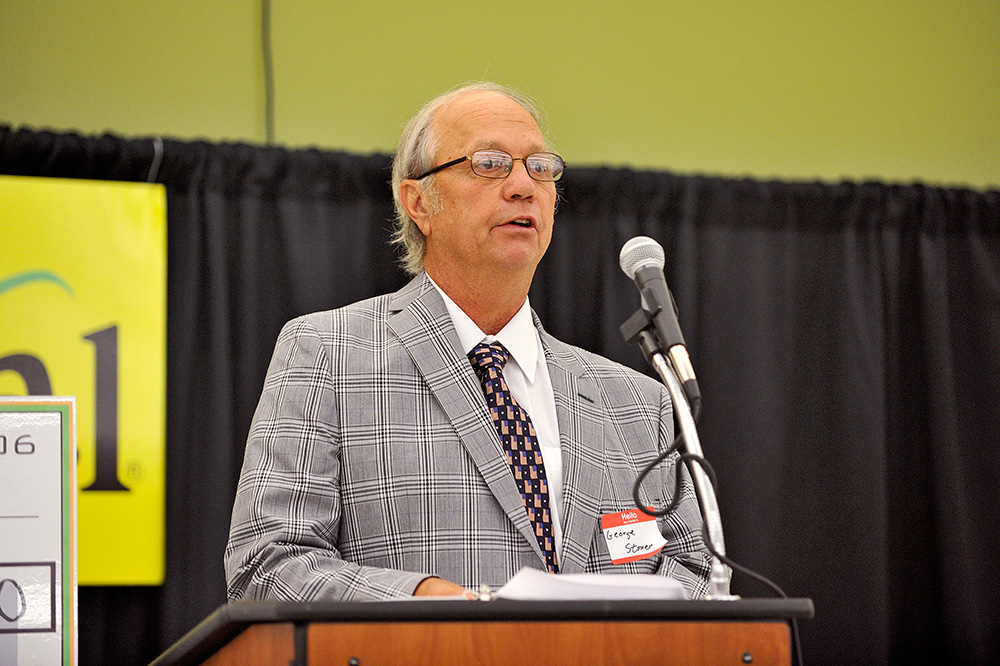 George Stoner, President, Village of Somers Board of Trustees
Welcome Speech

"It is my honor to be invited to help welcome all of you to today's ribbon cutting ceremony which celebrates the beginning of Festival Food's success here in Somers. Today is especially, dare I say "festive", for the many of us here who have been personally involved in bringing Festival Foods to our community.
When we first received the phone call telling us that Festival chose to invest in the community of Somers, we were thrilled that this unique food store would be located within a few minutes' drive from any of our neighborhoods and the University of Wisconsin-Parkside. Mark Anderson from the senior leadership team at Festival, and Curt Mauer and his team from Commercial Horizons, the developer of this project, met with our team in Somers during the summer of 2015, and from that point on the project went into full speed ahead.
The Village Plan Commission approved rezoning of the property in October, 2015 and the Village Trustees approved the Developer's Agreement on December 8, 2015. By Christmas, Festival was moving earth. Achieving such significant progress in a few months is no small undertaking. As in all development projects, challenges pop-up that require cool heads, patience, and persistence, to negotiate a resolution that everyone can live with. The Festival team excels at all of these I mentioned. The respect and professionalism that exists between Festival and Somers is the reason why we are standing at this ribbon cutting ceremony today, less than 12 months from our first meeting. I know I have said this before, but "relationships are everything".
Together with Wal-Mart, Sam's Club, United Hospital, Bear Development's 240 apartment units being built right next door, and soon to come Kwik-Trip, Festival will attract many new people to this already successful development area. On behalf of everyone in Somers please accept our warmest welcome to our community. Thank you."
–George Stoner, President, Village of Somers Board of Trustees, July 22, 2016.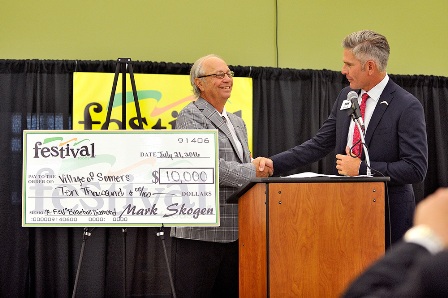 Mark Skogan, President and CEO of Festival Foods, presented to George Stoner, President of the Village of Somers Board of Trustees, a $10,000 check payable to the Village of Somers. The Festival Foods donation will help with the reconstruction of lighting at the "A-Field" baseball diamond next to the Village Hall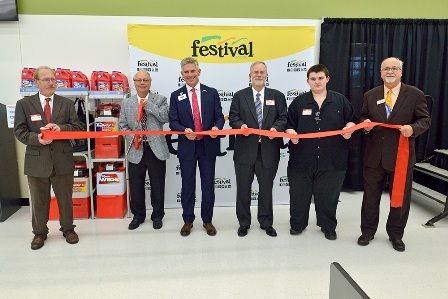 Village of Somers Board of Trustees: Rich Heinisch, George Stoner, Mark Skogan (Festival Foods), Dave Geertsen, Joe Cardinali and Lou Molitor (Kenosha Chamber of Commerce)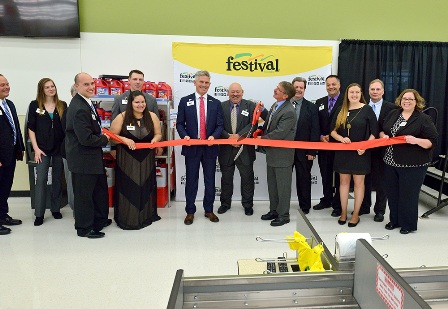 Festival Foods Somers store management team and Mark Skogan, President and CEO of Festival Foods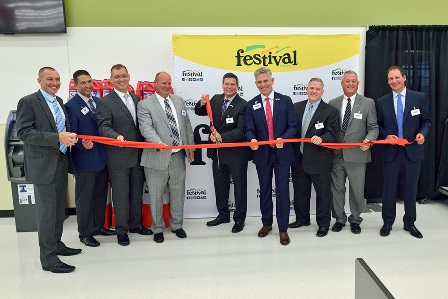 Festival Foods Leadership Team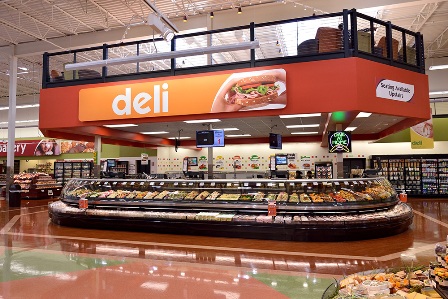 Deli Section of the Festival Foods store in Somers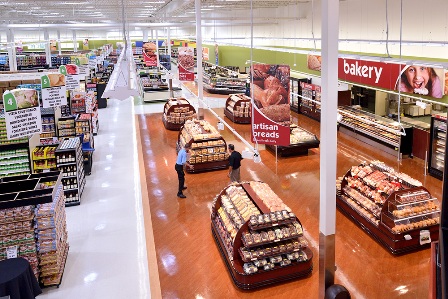 Bakery Section of Festival Foods store in Somers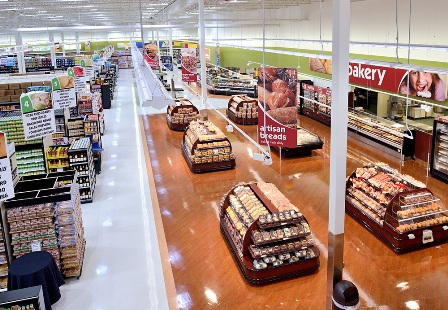 Overhead view of Festival Foods store in Somers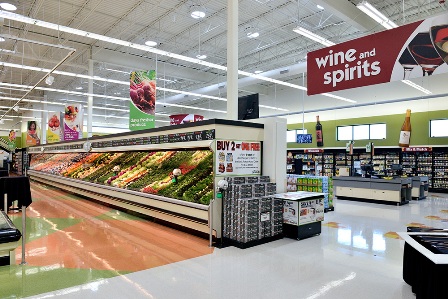 Produce and Wine & Spirits Section of Festival Foods store in Somers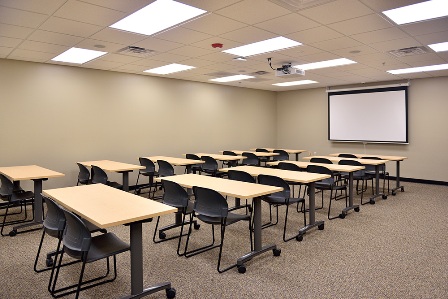 Community Conference Room may be reserved by members or organizations of the community for meetings and gatherings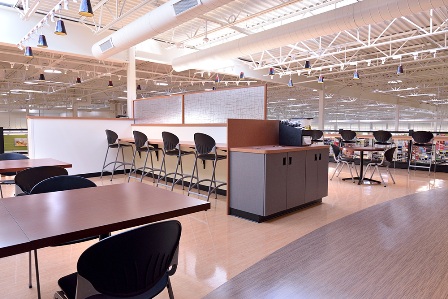 The Mezzanine, located above the Deli, offers tables, chairs, and a TV for guests to enjoy
"tot spot" supervised in-store child care service for children 18 months to 7 years in a safe, fun, learning environment, at no charge while parents and guardians shop at the Festival store in Somers
Special areas for veterans, disabled, and new or expecting mom parking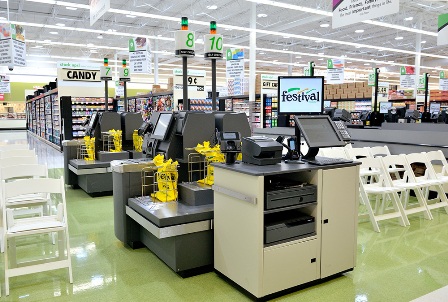 Four self check-outs
(All photos courtesy of Zak LaCrosse and Festival Foods)
Festival Foods is family- and employee-owned, founded in 1946 as a Skogen's IGA that began operating as Festival Foods in 1990. It employs 6,300 full- and part-time associates and operates 23 full-service, state-of-the-art supermarkets as well as Lakeside Sentry Foods in Paddock Lake, Wisconsin. Festival Foods is a culture-driven company committed to building relationships with guests and associates, serving communities, providing excellent service and investing in its associates.