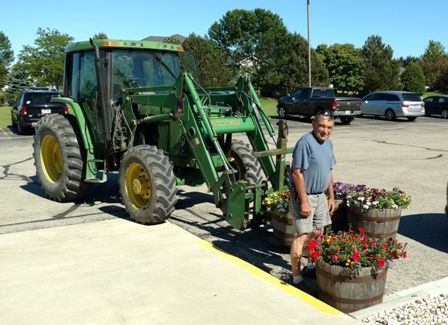 Ron Birchell, Burr Oaks Greenhouse, Somers, Wisconsin
(Photo courtesy of William Morris)

THANK YOU BURR OAKs GREENHOUSE!!
We know that the Somers Parade is just a few weeks away and the summer weather has finally arrived when they see Ron Birchell drive his John Deere tractor down Highway E to deliver beautiful planters of colorful flowers pots to the Somers Village/Town Hall. Everyone who works at the Village/Town Hall looks forward to Ron's delivery!
Ron and his family own and operate Burr Oaks Greenhouse located at 1275 – 100th Avenue in Somers. For the past twenty-six years, Burr Oaks has grown and sold annuals, perennials, vegetables, herbs, hanging baskets and more to the communities of Somers, Kenosha, and Racine. Thank you Burr Oaks and the Birchell family for the beautiful donation of flowers that brighten up the entrance to our Village/Town Hall.